JALAPEÑO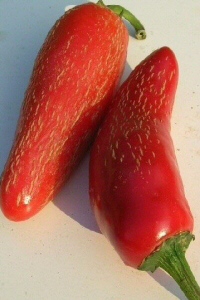 | | |
| --- | --- |
| ALTERNATIVE NAMES: | Cuaresmeno |
| ORIGIN: | Mexico |
| SPECIES: | C. annuum |
| SHU min. | 2.500 |
| SHU max. | 10.000 |

Jalapeño: C. annuum. Varietà originaria dal Messico. Prende il nome dalla città di Xalapa, Veracruz. Indubbiamente il peperoncino più popolare e usato in tutti gli Stati Uniti del sud. Si tratta di un ingrediente comune nella cucina messicana e tex-mex per la sua versatilità e la mite piccantezza. Spesso utilizzato verde. Prende il nome di Chipotle quando viene essicato. Il Jalapeño è stato il primo peperoncino ad essere portato nello spazio ed è la base di molte varietà ibride. 2.500 - 10.000 SHU.



Jalapeño: C. annuum. Original variety from Mexico. It takes its name from the city of Xalapa, Veracruz. Undoubtedly the most popular chili and used in the United States in the south. It is a common ingredient in Mexican and Tex-Mex kitchen due to its versatility and mild spiciness. Often used green. It is named for Chipotle when dried. The Jalapeño pepper was the first to be carried into space and is the basis of many hybrid varieties. 2.500 - 10.000 SHU.



Jalapeño: C. annuum. Variedad original de México. Toma su nombre de la ciudad de Xalapa, Veracruz. Sin duda, el más popular de chile y se utiliza en los Estados Unidos en el sur. Es un ingrediente común en México y Tex-Mex cocina debido a su versatilidad y sabor picante suave. A menudo se utiliza verde. Es el nombre de Chipotle cuando se seca. El pimiento jalapeño fue el primero en ser llevado al espacio y es la base de muchas variedades híbridas. 2.500 - 10.000 SHU.



Jalapeño: C. annuum. Original Sorte aus Mexiko. Es hat seinen Namen von der Stadt Xalapa, Veracruz. Zweifellos die beliebteste Chili und verwendet in den Vereinigten Staaten im Süden. Es ist eine gemeinsame Zutat in der mexikanischen und Tex-Mex Küche aufgrund seiner Vielseitigkeit und milde Würze. Häufig verwendete grün. Es ist für Chipotle genannt, wenn getrocknet. Die Jalapeño Pfeffer war der Erste, der in den Raum durchgeführt werden und ist die Grundlage für viele Hybridsorten. 2.500 - 10.000 SHU.



| | | |
| --- | --- | --- |
| Other images: | | youtube test |